20,000th Bentley Bentayga rolled out from the Crewe production facility in UK
In India, when you mention something about the production of the 20,000th car, it does not catch much attention as manufacturers like Maruti Suzuki, Hyundai and Tata Motors churn out the same in less than a week. However, this is about the uber luxurious Bentley Bentayga SUV that arrived in the year 2016, marking the English brand's presence in the SUV segment. A space that has been gaining a strong popularity over the past few years and continuing. Bentley recently rolled out the 20,000th unit of the Bentayga from its Crewe production facility in UK.
The Bentley Bentayga, the fastest luxury SUV in the world, is handmade by 230 engineers putting in over 100 hours in on a dedicated production line. The company mentions, the development programme for the Bentayga was the most exhaustive in the Bentley history, ranging across five continents which covered the dirt and gravel of South Africa, the dunes of Dubai, the muddy fields of Cheshire, also putting the SUV under extreme temperature from a freezing -30 degrees at Northern Cape to 50°C of desert heat.
There are five derivatives of the Bentley Bentayga with four different powertrains which include the 608PS/900Nm making twin-turbocharged 6.0-litre W12, that does 0-100 kmph in a claimed 4.1 seconds and a 550PS/770Nm producing V8 that can reach 100kmph in 4.5s (claimed). Then came in the Bentley Bentayga Speed, which even though was powered by the w12 produced 635PS with a faster 100kmph acceleration claimed timing of 3.9s. What also made the Bentayga an important model for the UK based is the fact that one of the powertrains was a plug-in hybrid, combing an electric motor with an efficient V6, which was company's most efficient model ever produced. And lastly, there is the triple-charged 4.0-liter V-8 diesel, the company's first ever diesel model, which makes 429PS and generates 900Nm of torque.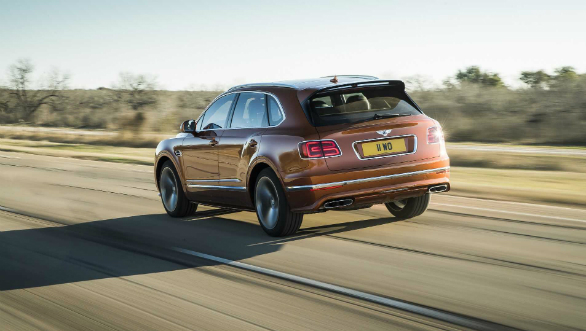 Price (Ex-Delhi)
Starts Rs 4.1 Crore