2.5 millionth Piaggio small commercial vehicle rolled out of the Baramati plant
Piaggio vehicle recently achieved a milestone of rolling out its 2.5 millionth SCV from its premier facility in Baramati. This particular vehicle was an Ape Xtra LDX. To commemorate this historic achievement, Piaggio India also launched a super warranty program along with a personal accident insurance program.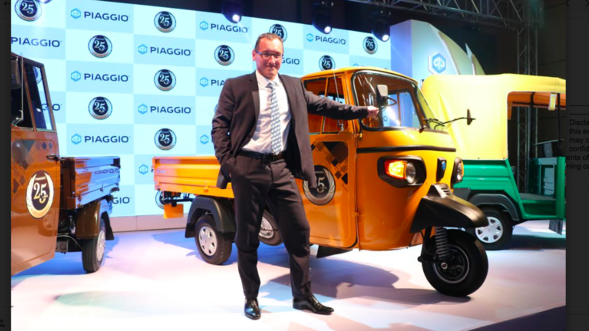 Diego Graffi, MD & CEO of Piaggio Vehicles Pvt.Ltd
Piaggio states that the customers buying Ape diesel 3-wheeler vehicles will get a warranty for 42 months or 1.2 lakh kilometres (whichever is earlier). Whereas customers buying the Ape CNG/ LPG/ Petrol 3-wheeler vehicles will be entitled to a warranty of 36 months or 1 lakh kilometres (whichever is earlier). On top of that an accident Insurance cover of Rs. 1 lakh will be offered to all the customers who buy Piaggio 3-wheelers from today onwards.
Additionally, the company also launched a new range of Ape CNG/ LPG vehicles in the country. These vehicles come equipped with water-cooled engines that are claimed to offer best-in-class performance in terms of power, pick-up, mileage and maintenance.
"We created the market, grew the market and owned the market in the last mile connectivity segment .The roll out of the 2.5 millionth vehicle is a testimony of the trust shown by the customer in Piaggio's products reliability. It is pertinent to note that Piaggio's offerings are not just vehicles but are a strong source of creating self-employment which is extremely vital for the growth of the nation. I see many new opportunities for us in the coming future as the Indian market is set to gain a more predominant role in Piaggio 's global business" commented, Ravi Chopra, Chairman of Piaggio Vehicles Pvt. Ltd.
"The emphasis on alternate fuel technology is growing every day in the country and hence we introduced an improved range of alternate fuel vehicles to cater to the market's needs. The customer initiatives and improved range of alternate fuel vehicles are a part of Piaggio's strategy to further consolidate and strengthen Piaggio's presence in the small commercial vehicle industry." Diego Graffi, MD & CEO of Piaggio Vehicles Pvt.Ltd