1,025PS Dodge Challenger SRT Demon 170 is a send-off to HEMI V8
Dodge has unveiled the most potent Challenger ever in the form of the Challenger SRT Demon 170. Inevitably, this model is the seventh and final edition version of the brand's 'Last Call' series. Not to mention, Dodge claims that the Challenger SRT Demon 170 is the world's most powerful and fastest muscle car. Meanwhile, the carmaker plans to produce only 3,300 units (3,000 for the US and 300 for Canada) of this special and final edition model.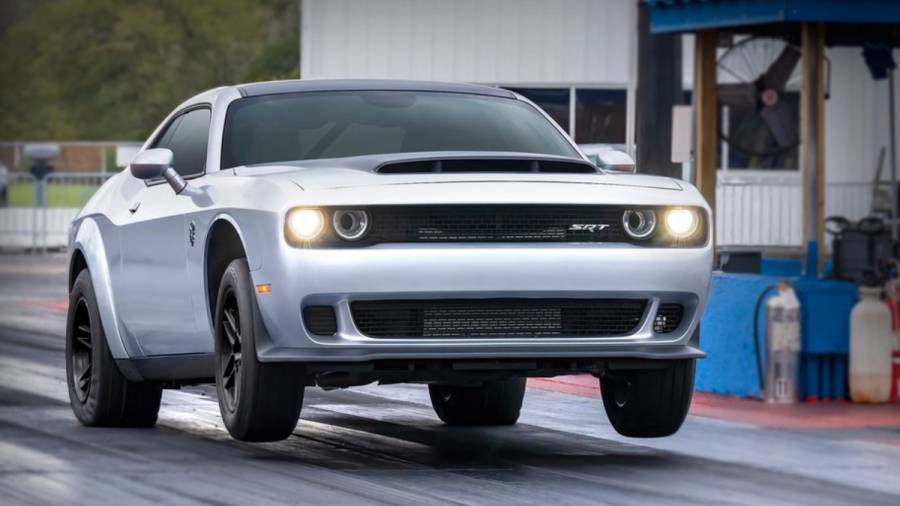 Dodge Challenger SRT Demon 170: The Heart
The Challenger SRT Demon 170 features a heavily tuned-up supercharged 6.2-litre V8 HEMI that generates a whopping 1,025PS at 6,500rpm and 1,281Nm of torque at 4,200rpm. With these staggering figures, the Demon 170 can achieve 60mph in 1.66 seconds, while it finishes a quarter-mile in just 8.91 seconds (NHRA-certified) at 151.17mph. It is to be noted that the Challenger SRT Demon 170 can run on E85 fuel. Interestingly, it can also unleash all the power using E85 fuel. While running on E10 fuel, it can only produce 900PS.
To achieve these eye-popping results, Dodge had to make several major changes to the powertrain, including a completely new driveline. To begin with, it has increased the capacity of the supercharger from 2.7-litre to 3.0-litre. In addition, the Challenger SRT Demon 170 gets a larger 105mm throttle body compared to 92mm. Then, a smaller 3.02-inch pulley has considerably upped the boost pressure by 40 per cent, reaching 21.3 psi compared to 153 psi in the Challenger SRT Hellcat Redeye Widebody.
Dodge Challenger SRT Demon 170: Key highlights
The brand has further equipped the Challenger SRT Demon 170 with an enormous set of rear tyres: 315/50R 17 Micky Thompson RT Street R drag radials. It also features tweaked Bilstein adaptive suspension and a new Drag suspension mode. In addition, the rear axle has been made more robust by 53 per cent than the 2018 Challenger SRT Demon, thanks to aerospace-grade metals, whereas the rear prop shaft is now 30 per cent stronger. Meanwhile, the brand's SRT Power Chiller system diverts air conditioning to cool the supercharger intercooler to maintain optimal air intake temperature.
Dodge has ditched the fender extensions to save about 7kg. Instead, the fenders get 170 badges with yellow Demon's eyes, representing the E85 fuel blend. It is interesting to note that the Air-Grabber – a large bonnet air inlet features laser etched 'Alcohol Injected' lettering. Apart from that, the Demon 170 is available in 14 distinctive paint jobs. Notably, the Dodge Challenger SRT Demon 170 cost starts from $96,666.