1000PS Ferrari SF90 Spider is also its first hybrid drop-top
After debuting the Ferrari SF90 Stradale as its fastest production mid-engined car last year, Ferrari has now lopped its roof off to create the Ferrari SF90 Spider. With this the SF90 Spider also becomes the first hybrid convertible from the Maranello outfit.
The SF90 Spider features a retractable hardtop that can raise or lower in 14s. Not content on just leaving it at that, Ferrari's designers also ensured that the new roof retains the SF90 Stradale's design in profile when stowed and that the engine's glass cover could still be incorporated. Changes to the bodywork and aero package to accommodate the new droptop are slimmer A-pillars, and a newly designed cooling vents for the engine. Ferrari chose a hardtop over a softtop because it wouldn't deform at speed and also improve cabin noise insulation. This roof mechanism only takes up 100 litres of space here, against the at least 150 litres elsewhere.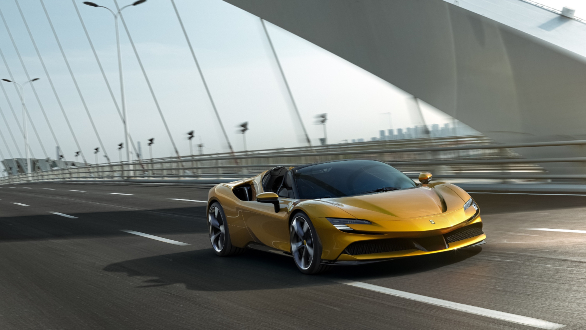 The SF90 Spider retains the Stradale's complex and deeply impressive powertrain. The SF90's motor is a development of the one found in the 488 GTB. Significant modifications mean that it makes 780PS, as compared to 710PS in the Pista. This is paired with three electric motors. The biggest one sits in the middle of the car, paired with a new eight-speed DCT that shifts 30 per cent quicker. The other two motors are placed on the front axle giving the SF90 Spider AWD and torque vectoring capabilities. Combined they make 220PS, powered by a 7.9 kWh lithium-ion battery. The overall output is 1000PS, more than the LaFerrari. The SF90 can get from 0 to 100 kmph in 2.5s and to 200 kmph in 6.7s. The hypercar can do 25 km in electric power only, and reach 135 kmph in this mode. Top speed is 340 kmph.
The SF90 Stradale's extensive aerodynamic enhancements have carried over to the Spider as well. Highlights are the underbody vortex generators fed by the split front bumper design and slightly raised front section. There is also the forged alloy wheel with the incorporated fins to ease pressure in the wheel arches. Finally, the most prominent aero addition is the shut-off Gurney at the rear of the car. Placed after the engine cover, this incorporates a movable wedged panel at the end of the car to manage airflow according to driving conditions.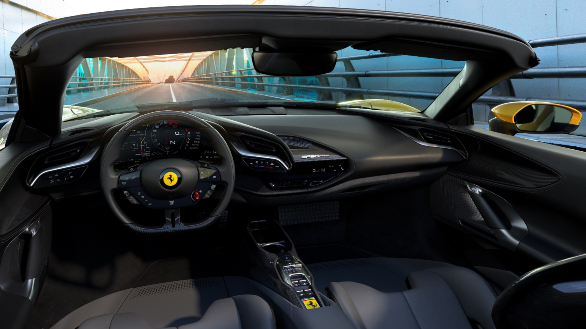 The interiors carry over the new, minimalistic, touch-heavy theme from the SF90 Stradale with the touchpad equipped steering wheel buttons and the 16-inch curved display. Also seen here is the slim centre console with the gearbox controls arranged in the style of Ferrari's iconic gated shifters.
The Ferrari SF90 Spider is now on sale internationally.